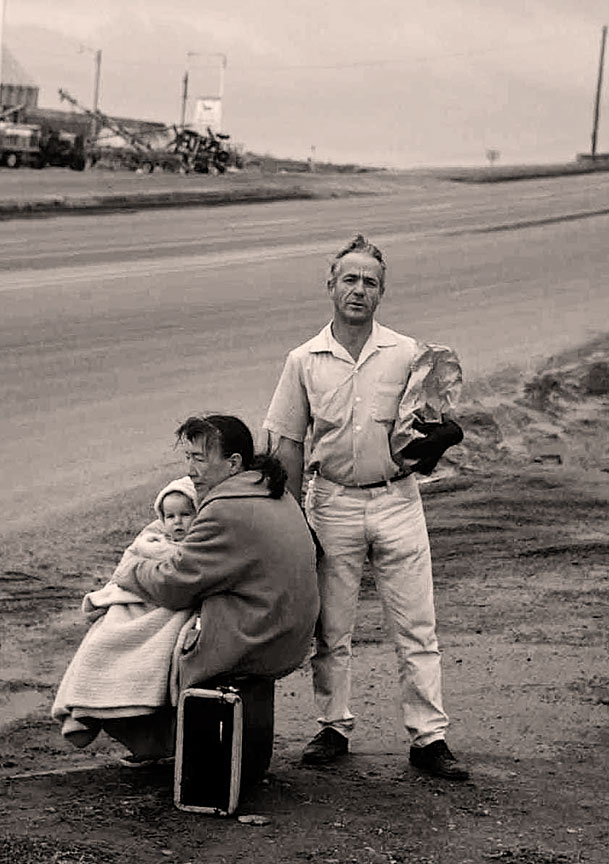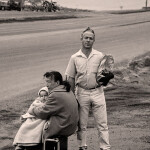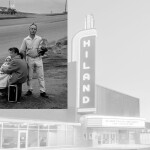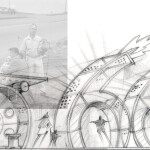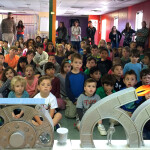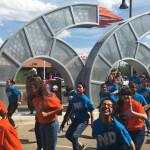 How We Work, Where Ideas Come From
This story is about our process in creating every work of public art. The story is personal and meaningful. This one is about my journey and inspiration for the public art project along RT66, on Central Ave in Albuquerque. The piece is called "Reels and Wheels."
It was a cold wet winter day in 1967 as I travelled west along Route 66, The Mother Road.
Crossing the state line into New Mexico I saw a couple hitchhiking East. I stopped my car, grabbed my new SLR camera and asked if I could take their picture. The gentleman posed like something from American Gothic. The mother and child sat motionless on a warn suitcase ~ all their possessions.
I asked where they were heading and he asked me the same. I said, Los Angeles. And with no hesitation replied, "We'll go that way"
We wanted to capture that fleeting moment of this extraordinary couple taking a journey with hope, dreams, expectations and how the Mother Road would get them there.
This black and white photo still sits on my drafting table and I ofter wonder how it worked out for them, wishing them and their newborn much love and happiness.
Sometimes it's these stories and moments in life that can be an inspiration for a public art projects because it captures the core of what is Route 66, The Mother Road.
The Importance of Sustainability
With each passing day, sustainability becomes more important, with dwindling resources, more products in landfills, continual refurbishment of supposedly contemporary projects. That's why we subject every project to the the guidelines of PASA (Public Art Sustainability Assessment).
PASA guidelines consider every aspect of public art projects, from community involvement to environment and management, including efficient design, use of local materials and resources, ethical sourcing, waste plans, noise level and toxicity of materials.
Overall the goal is Lifespan. We anticipate our projects to last 100 years or more.